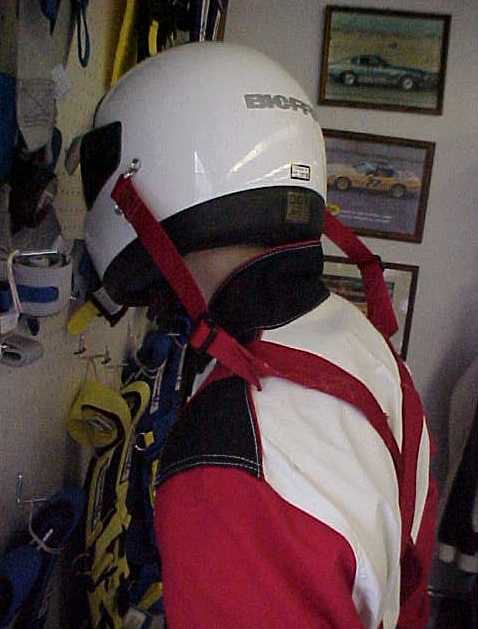 TeamTech Offers Head/Neck Restraint Alternative

The investigative evidence coming out of fatal racing crashes in the past two years and the lab research conducted by various human dynamics engineers has been suggesting that the chief contributing factor producing the fatal basal skull fractures in drivers has been the forces accelerating the head and helmet, especially in right-front impacts. Curt Tucker, TeamTech President and safety restraint system patent holder presented a solution to this problem at the 14th Performance Racing Industry Show in Indianapolis in December.

His new Tuckertm Head & Helmet Harness restraint system is extremely simple and low cost (retail price is approximately $250.) It consists of an over-the-shoulder harness of high tensile-strength webbing fastening around the driver's chest with Velcro, with webbing straps with quick release buckles attached to mounting points on the driver's helmet. The secret to the system's ability to reduce the violent head motions that cause neck attenuation is that it is held tightly in place with the shoulder straps of the in-car safety harness. In fact, the Tuckertm Head & Helmet Harness works in concert with all types of safety harness, not only absorbing some of the impact forces otherwise translated to the driver's neck but also helping to keep the shoulder straps in place. The problem in right front impacts is that without seat extensions or net catches on the right hand side to stop the movement, the driver's body tends to rotate out of the left side shoulder harness, as it is pulled to the right by the mass of the head and helmet. The Tuckertm Head & Helmet Harness pulls the left shoulder strap with it, as the head and helmet move to the right, reinforcing its hold on the 'off' shoulder and helping to distribute the force. "This is an important element no one else is addressing," said Tucker Wednesday afternoon, following a PRI Industry Roundtable discussion of the HANS device and information about the effect of the safety harness placement in the fatal Earnhardt crash. "Most top level drivers now accept the necessity of head and neck restraint systems, but keeping the shoulder harness straps in place to help share the impact forces is just as important. Tuckertm Head & Helmet Harness restraint system does both, at an affordable price." Tucker founded TeamTech after many years testing safety equipment, especially harnesses and buckles for the aerospace industry. Recognizing an opportunity to create 'a better mousetrap' in the failures of other equipment on the market, he patented a rotary cam-over release buckle and a 6-point restraint system that divides the load on the traditional crotch-strap fifth anchor point into two, spreading the loads under impact across the heavy pelvic bone. Team-Tech's 6-point RamPack harness also has the effect of reducing sternum impact injuries, a result Tucker enhanced with sternum cushioning pads. For more information, visit the TeamTech website, www.teamtechmotorsports.com or call us.