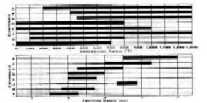 Polymatrix Brake Compounds

Wilwood offers eight distinct friction compounds that provide incremental changes in torque values and operational temperature ranges (see graph).

For quick reference, the compounds include:

Compound A Ultimate friction material for severe duty, extended high temperature braking. Highest friction torque for use with iron, steel or titanium rotors. Immediate brake response at cold temperatures and throughout temp range.

Compound J Medium to high friction material with longest wear and flattest torque curve. No friction change with increased heat. Softer resonse where traction is marginal.

Compound B: Medium to high torque with long wear in medium to high temp range. Little warm-up required. Versatile for asphalt and severe duty use on dirt tracks.

Compound C: Medium to high torque with long wear for use in high temperature range. Requires moderate heat buildup then maintains flat torque curve with consistent pedal feel. Softer brake response and lower torque on dirt with marginal traction. Will not fade in upper heat ranges.

Compound E: Highest temperature range within the medium temperature pad group. Flat torque curve for immediate, predictable pedal response and superior modulation throughout temperature range.

Compound D: Medium temperature race pad with highest cold friction value. Excellent with cast iron and steel rotors. Minimum bed-in required.

Compound Q: Improved stopping power over OE -- quieter and less dust. Smooth engagement, long life, quick recovery with high fade resistance. Shapes to fit most aftermarket performance calipers.

Compound T: Improved stopping power in low-medium temperature range. Works well in racing where OE brake components are required. Economically priced, low noise, low dust, low rotor abrasion.